Media

and

Public Relations
#1 Media
Print & Online
50,000
Global Print Readership
250,000
Unique Online Visitors
65,000
Subscribers to Newsletters
Geospatial World
Geospatial World is a popular publication, well acclaimed and most referred by global geospatial industry, policy and user community, research and academia alike. The print and online publications provide insight and analysis of technology trends, applications and business dynamics of GIS, remote sensing, GNSS, Surveying & Mapping, BIM, LiDAR and several upcoming technologies.
Geospatial World

Considered as the voice of the global geospatial industry, Geospatial World features the latest news and happenings across the world, presents views of experts through interviews and columns, advocates on policy issues and captures the dynamics of industry landscape through comprehensive cover-stories, exclusive feature articles and case studies. The magazine is published in two formats - print and digital.

Subscribe to Geospatial World Magazine

GeospatialWorld.net

A world-class resource portal, geospatialworld.net is actively used as a reliable source of information in about 150+ countries. The portal is an interactive medium for geospatial enthusiasts to connect through several innovative features like news, blogs, case studies, articles, interviews, events, company and tender information.

Geospatial World Newsletters

Email is a prominent medium used to reach out to our readers. GeoBuiz Weekly targets global audience and Europe Geospatial Digest reaches out to geospatial enthusiasts in their respective region.

Subscribe to Geospatial World Newsletters

Social Media

Geospatial World effectively uses all social media platforms to keep its readers abreast with the latest happenings of geospatial industry around the world; shares thought-provoking articles and interviews; and engages fellow geospatialists with constructive discussions and debates. Follow us!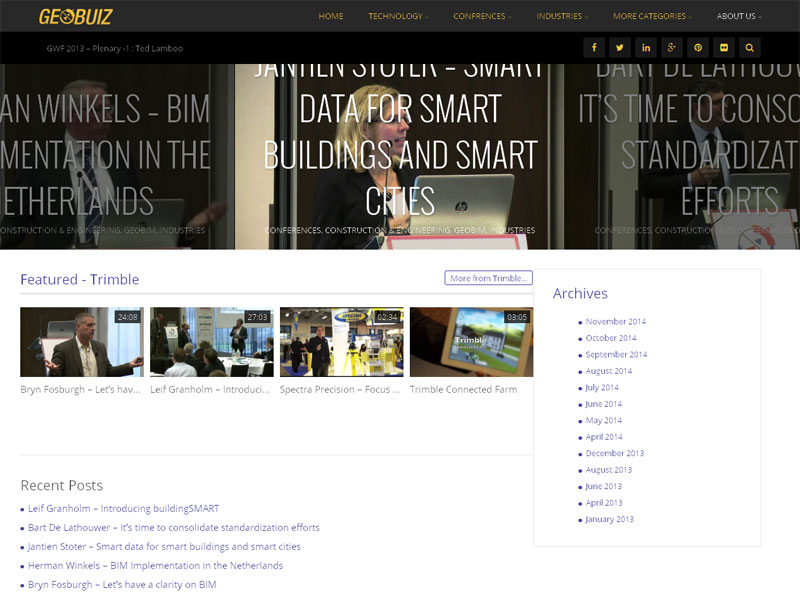 GeoBuiz
GeoBuiz channel aims to be the preferred destination for video live and on-demand video content for the geospatial industry. The channel currently hosts a variety of video content such as live sessions and discussions on geospatial technology and its applications. Soon, we will be reaching out to the audience in North America and Europe with the Live video content.