E-BOOK:
GIS AND BIM INTEGRATION FOR
SUSTAINABLE AEC INDUSTRY PRACTICES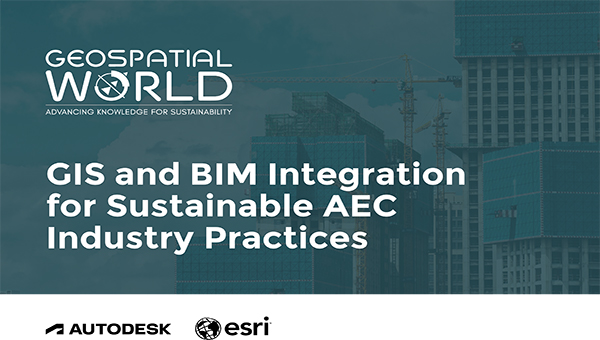 GIS and BIM Integration for Sustainable AEC Industry Practices is an e-book prepared by Geospatial World, in association with Autodesk and Esri. The e-book highlights the need of integrated geographic information system (GIS) and building information modelling (BIM) solutions to facilitate a data-driven approach to project life cycle management, which is crucial for sustainable project outcomes. The e-book has curated project case studies which applied integrated GIS and BIM solutions in their project workflow. The case studies alongside brief research findings summarise data interoperability in the AEC industry, application of common systems and platforms, challenges, needs, and solutions for different stakeholders.
GLOBAL CASE STUDIES ON GIS AND BIM APPLICATION
CHALLENGES & SOLUTONS OF PROJECT STAKEHOLDERS
STAKEHOLDERS' OBSERVATIONS OF INTEGRATING GIS AND BIM
NEED TO DIGITALIZE AEC INDUSTRY PRACTICES

Want to know more? Download the free e-book today and discover the benefits of integrated GIS and BIM solutions in sustainable AEC industry practices!
Please contact us for more information.
For more details, please feel free to reach out to: