Market Report: India's Geospatial Market and Prospects
Geospatial technology is aggressively helping in various sectors in India. The key to its usage lies in data acquisition and visualisation. The report "India's Geospatial Market and Prospects" is an in depth study and analysis of geospatial industry in India. It provides a detailed view of the market; its behaviour and trends related to the consumption and applications of geospatial technology in the region.
The report focuses on various sectors like infrastructure, urban development, agriculture, electricity, disaster management, water, environment, forestry and climate change. These sectors are analyzed based on parameters like GDP growth, government initiatives, programs, investments by the government and private sector, technology application areas, growth segments, benefits and challenges. The current level of adoption of geospatial technologies in the country and the future business prospects of the technology are highlighted in the report.
Key features:
500+ users surveyed for the report
Professional and in-depth study on the current status and future growth drivers of Geospatial Industry in India
200+ tables and figures in the report provide key statistics on the state of the industry and acts as a valuable source of market insight
Overview of the industry including ecosystem, growth sectors, market behavior, major programs/schemes and initiatives, investment areas, challenges and user's perspective on the applicability of the technology in different sectors, spheres and industries
Market analysis for India including development trends, sectors, opportunities and major focus areas in various industry sectors
Key statistics on the state of the industry which can be a valuable source of guidance and
direction for companies and individuals interested in the market
Key Findings
Though it's not in an advanced stage of implementation in most sectors, the applications of geospatial technology has definitely found new avenues in recent times.
Satellite imagery and GIS are two of the most used technologies in the agriculture sector. Increased demand of onboard sensors for mapping and monitoring is visible.
Policy mandates drive usage of GNSS, remote sensing and GIS in the areas of disaster management Visualization and interpretation of disasters is the key to usage of digital maps.
GIS is widely used for asset management and network planning in electric utilities. Availability of real-time/updated information about assets and consumers is a key driver in usage of geospatial technologies.
Majorly geospatial technologies are implemented for forest cover assessment and environmental modelling.
Infrastructure development is aided by surveying & mapping related technologies like total stations and GNSS.
Higher adoption of geospatial technologies in urban development is towards data creation, followed by monitoring.
Usage of GIS, GNSS deriving helps in project management and resource allocation in the water sector.
Respondents Profile
To understand the market dynamics and strategies in detail, a primary research and analysis has been carried out with more than 500+ organizations across the country. The distribution of the stakeholders participated in the primary research is provided below:
Scope of the Report
The research report categorizes the Indian Geospatial Market into the following segments:
Geospatial market by technology
Aerial imagery
Electronic total stations
GIS
GNSS
LiDAR/Laser Scanning
Radar
Satellite imagery
UAVs/Drone
Geospatial market by industry verticals
Agriculture
Disaster management
Electricity
Forest, environment and climate change
Infrastructure
Urban development
Water resources
Geospatial market by application areas
Assets and resource management
Data acquisition and visualization
Information systems
Monitoring
Planning and analysis
Surveying and mapping
Benefits of usage of geospatial technologies
Better precision and accuracy
Enhanced data safety, security and control
Faster decision making
Improved cost efficiency
Improved productivity
Increased transparency and planning
Challenges in usage of geospatial technologies across various levels
Data
Field level
Operational
Organizational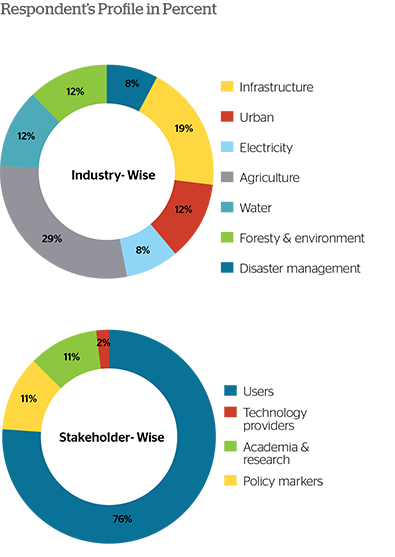 Target Audience
Decision makers in government | Investors & Entrepreneurs | Policy making agencies | Research organizations | Service providers
Solution providers | Technology providers
Customizations Available
With the given market data, we offer customizations as per the company's specific needs.
List of Boxes
Box 1.1 Components of Business Environment
Box 2.1 Port-Led Development Initiatives in India
Box 3.1 Urbanization in India - Some Facts
Box 3.2 Application Areas of Geospatial Technology in NUIS
Box 3.3 Application Area of Geospatial Technologies in Rajiv Awas Yojana
Box 3.4 Smart City Challenge
Box 4.1 Challenges in Electricity Sector in India
Box 4.2 Major Benefits of UDAY
Box 5.1 Drones in Agriculture
Box 6.1 Issues & Challenges of the Water Sector in India

List of Figures
Figure1.1 Geospatial Industry Stakeholders
Figure 1.2 Influencing Factors for Geospatial Market
Figure 1.3 Indian Market at the Verge of High Growth
Figure 1.4 Technologies Accelerating Use of Geospatial Technology
Figure 2.1 Representative Case – Port-Led Development in Gujarat
Figure 3.1 20 Smart Cities Announced in the First Phase
Figure 5.1 Future Areas of Prosperity in Indian Agriculture
Figure 5.2 Smart Agriculture Technologies
Figure 8.1 Geospatial Technologies in Various Stages of Disaster Management

List of Tables
Table 1.1 Benefits of Decision Support Systems
Table 1.2 Projects/Programs in India Emphasizing Usage of Geospatial Technology
Table 1.3 Number of Institutes Conducting Training/Education in Geoinformatics / Geospatial Technologies
Table 1.4 Assumptions & Their Possible Impacts on Geospatial Market of India
Table 2.1 Project Details: Dedicated Freight Corridors in India
Table 2.2 Current Status: Dedicated Freight Corridors in India
Table 2.3 Project Details: Industrial Corridors in India
Table 2.4 Major Infrastructure Programs of Government in India
Table 2.5 Geospatial Technologies Applications and Advantages for Roads & Railways
Table 2.6 Geospatial Technologies Applications & Advantages for Aviation (on Ground)
Table 2.7 Geospatial Technologies Applications & Advantages for Aviation (in Air)
Table 2.8 Geospatial Technologies Applications & Advantages for Dams
Table 2.9 Geospatial Technologies Applications & Advantages for Maritime & Inland Navigation
Table 3.1 Urban Development in India - at a Glance
Table 3.2 Urban Population of India - Contribution of Cities
Table 3.3 Budget Allocation to the Urban Sector in India During the Twelfth Five Year Plan
Table 3.4 National Schemes for Urban Development in India
Table 3.5 Regional Schemes for Urban Development in India
Table 3.6 Ongoing Metro Rail Projects in India
Table 3.7 Geospatial Technologies and Their Scope in Different Aspects of Urban Development
Table 4.1 Applications of Geospatial Technologies in Electricity Sector
Table 4.2 Investment Potential in Generation Sector in India
Table 4.3 Programmes/ Projects in Electricity Sector in India
Table 5.1 Agriculture Sector in India - at a Glance
Table 5.2 Type of Crop in the Major States in India in Terms of Agricultural Produce
Table 5.3 Geospatial Technologies in Agriculture and Allied Sectors
Table 5.4 Current Schemes and Programmes in Agriculture Sector in India
Table 5.5 Digital Initiatives/E-Governance Projects in Agriculture Sector in India
Table 5.6 Major Initiatives in Agriculture by Various Technology Providers and Cooperatives in India
Table 5.7 Opportunities, Scope and Benefits of Geospatial Technology at Different Levels of Implementation
Table 6.1 Water Resources in India: at a Glance
Table 6.2 Geospatial Technologies Applications & Advantages for Water Resources Management
Table 7.1 Geospatial Technologies: Applications & Advantages for Forestry
Table 7.2 Geospatial Technologies: Applications & Advantages for Environment Management
Table 7.3 Current Geospatial Initiatives in Forest, Environment & Climate Change in India
Table 8.1 Major Ongoing Disaster Management Projects Under NDMA

List of Graphs
Graph 1.1 India's GDP Growth Rate (In %)
Graph 1.2 India's Sectoral GDP Growth Rate
Graph 1.3 India's Central Plan Outlay (In Mn USD)
Graph 1.4 Respondent's Profile in Percent
Graph 1.5 Industry-Wise Adoption of Geospatial Technologies in India
Graph 1.6 Adoption of Geospatial Technologies in India
Graph 1.6A Industry-Wise Adoption of GNSS
Graph 1.6B Industry-Wise Adoption of Satellite Remote Sensing
Graph 1.6C Industry-Wise Adoption of Electronic Total Stations
Graph 1.6D Industry-Wise Adoption of GIS
Graph 1.7 Application Areas of Geospatial Technology in India
Graph 1.8 Industry-Wise Application Areas of Geospatial Technology in India
Graph 1.9 Technology-Wise Application Areas of Geospatial Technology in India
Graph 1.10 Reasons for Adoption of Geospatial Technologies in India
Graph 1.11 Benefits Derived by Implementing Geospatial Technology in India
Graph 1.12 Industry-Wise Benefits Derived by Implementing Geospatial Technology in India
Graph 1.13 Organisational Challenges Faced in Implementing Geospatial Technology in India
Graph 1.14 Technological Challenges Faced in Implementing Geospatial Technology in India
Graph 1.15 Data Related Challenges Faced in Implementing Geospatial Technology in India
Graph 1.16 Technology Providers Profile
Graph 1.17 Sectors Being Focused by the Geospatial Technology Providers in India
Graph 1.18 Services/Solutions Offered by the Geospatial Technology Providers in India
Graph 1.19 Products Offered by the Geospatial Technology Providers in India
Graph 1.20 Benefits Offered by Geospatial Technology Providers in India
Graph 1.21 Challenges Faced by the Geospatial Technology Providers in India
Graph 1.22 Conduciveness of the Present Geospatial Related Policies in India - Opinion
Graph 2.1 Infrastructure Investments in India (2012-2017)
Graph 2.2 Projected Spending in Various Infrastructure Projects in India (Bn USD)
Graph 2.3 Geospatial Technology Adoption in Planning & Construction Phase of Infrastructure in India
Graph 2.4 Geospatial Technology Adoption in Operations & Management Phase In Infrastructure in India
Graph 2.5 Application of Geospatial Technologies in Planning & Construction Phase Of Infrastructure in India
Graph 2.6 Application of Geospatial Technologies in Operations & Management Phase Of Infrastructure in India
Graph 2.7 Technology Wise Application in Planning & Construction Phase of Infrastructure in India
Graph 2.8 Technology Wise Application in Operation & Management Phase of Infrastructure in India
Graph 2.9 Reasons for Use of Geospatial Technology in Planning & Construction Phase Of Infrastructure in India
Graph 2.10 Reasons for Use of Geospatial Technology in Operations & Management Phase of Infrastructure in India
Graph 2.11 Benefits of Geospatial Technologies in Planning & Construction Phase Of Infrastructure in India
Graph 2.12 Benefits of Geospatial Technologies in Operations & Management Phase Of Infrastructure in India
Graph 2.13 Future Plans to Adopt the Geospatial Technology in India
Graph 2.14 Organisational Challenges in Planning & Construction Phase of Infrastructure in India
Graph 2.15 Organisational Challenges in Operations & Management Phase of Infrastructure in India
Graph 2.16 Source of Data for Planning & Construction of Infrastructure Projects in India
Graph 2.17 Source of Data for Operations & Management of Infrastructure Projects in India
Graph 2.18 Type of Spatial Data Used in Planning & Construction Phase of Infrastructure Projects in India
Graph 2.19 Type of Spatial Data Used in Operation & Management of Infrastructure Projects in India
Graph 2.20 Data Challenges in Planning & Construction Phase of Infrastructure Projects in India
Graph 2.21 Data Challenges in Operations & Management Phase of Infrastructure Projects in India
Graph 2.22 Integration of Geospatial Technologies in Workflow of Infrastructure Sector in India
Graph 2.23 Satisfaction Level After Implementing Geospatial Technologies in Infrastructure Sector
Graph 3.1 Urban Population - India Vs World
Graph 3.2 Global Rank of India in Contribution of Urban Population to Total Population
Graph 3.3 Housing Shortage Scenario in India (2007-2012)
Graph 3.4 Housing Shortage Scenario in India (2007 -2012) Based on Economic Category
Graph 3.5 Geospatial Technologies Adoption for Urban Development in India
Graph 3.6 Application of Geospatial Technologies for Urban Development in India
Graph 3.7 Technology Wise Applications of Geospatial Technologies for Urban Development in India
Graph 3.8 Benefits of Adopting Geospatial Technologies for Urban Development in India
Graph 3.9 Organisational Challenges in Implementing Geospatial Technologies in Urban Development in India
Graph 3.10 Technological Challenges Faced in Implementation of Geospatial Technologies in Urban Development in India
Graph 3.11 Source of Spatial Data in Urban Development Sector in India
Graph 3.12 Data Related Challenges in Implementing Geospatial Technologies for Urban Development in India
Graph 3.13 Vendor Related Challenges in Implementing Geospatial Technologies for Urban Development in India
Graph 4.1 Power Supply Position in India
Graph 4.2 Fuel-Wise Share of Electricity Generation in India
Graph 4.3 Renewable Energy Based Power Generation in India
Graph 4.4 Sector-Wise Power Consumption in India
Graph 4.5 Per Capita Power Consumption in India
Graph 4.6 Sector-Wise Power Generation Capacity in India
Graph 4.7 Projected Power Generation Capacity in India With 2015 As Base Year
Graph 4.8 Priority of Power Distribution Companies in India
Graph 4.9 Base Map Providers for GIS Implementation in DISCOMs in India
Graph 4.10 Mode of GIS Implementation in DISCOMs in India
Graph 4.11 Frequency of Updating GIS Database in DISCOMs in India
Graph 4.12 Mode of Updating GIS Database in DISCOMs in India
Graph 4.13 Application of GIS in DISCOMs in India
Graph 4.14 GNSS Application in DISCOMs in India
Graph 4.15 Integration of GIS With Business Processes in DISCOMs in India
Graph 4.16 Separate Department for Handling Geospatial Projects in DISCOMs in India
Graph 4.17 Beneficiaries of GIS Within DISCOMs in India
Graph 4.18 Benefits of Geospatial Technologies in DISCOMs in India
Graph 4.19 Indicators for Measuring Benefits of GIS in DISCOMs in India
Graph 4.20 Challenging Phases in the Life Cycle of GIS in DISCOMs in India
Graph 4.21 Data Related Challenges Faced by DISCOMs During GIS Implementation in India
Graph 4.22 Vendor Related Challenges Faced by DISCOMs During GIS Implementation in India
Graph 4.23 Support Required for Successful Implementation of Geospatial Projects in Electricity Sector in India
Graph 4.24 Steps for Further Adoption of Geospatial Technologies in Electricity Sector in India
Graph 5.1 GDP by Value Added of Agriculture and Allied Activities in India (Bn USD)
Graph 5.2 Share of Agriculture in Total Gross State Domestic Product at Current Prices of Selected States of India
Graph 5.3 Food Grain Production in India (Mn Tonnes)
Graph 5.4 Major System Integration Platforms in Agriculture Sector in India
Graph 5.5 Major Areas of Innovation in Agriculture Sector in India
Graph 5.6 Primary Survey of Agriculture Sector: Respondents Profile
Graph 5.7 Perspective of Users in Agriculture Sector in India
Graph 5.8 Perspective of Research Organizations in Agriculture Sector in India
Graph 5.9 Perspective of Technology Providers in Agriculture Sector in India
Graph 5.10 Major Geospatial Technologies Used in Agriculture at Present in India
Graph 5.11 Major Geospatial Technologies to be Used in Future in Agriculture in India
Graph 5.12 Application Areas Where Geospatial Technologies Are Used in Agriculture Sector in India
Graph 5.13 Agriculture Sector User Segment Focus Areas in India
Graph 5.14 Agriculture Sector Technology Providers Focus Areas in India
Graph 5.15 Technology Wise Benefits of Geospatial Technologies in Agriculture in India
Graph 5.16 Major Challenges in the Agriculture Sector in India
Graph 5.17 Organizational/Institutional Challenges in Implementing Geospatial Technologies In Agriculture in India
Graph 5.18 Technology Related Challenges in Implementing Geospatial Technologies in Agriculture in India
Graph 5.19 Farm Level Challenges in Implementing Geospatial Technologies in Agriculture in India
Graph 6.1 Current & Future Per Capita Average Annual Water Availability in India
Graph 6.2 Major Projects in Water Resource Sector in India & Value of Geospatial Component
Graph 6.3 Geospatial Technologies Adoption in the Water Resources Sector in India
Graph 6.4 Applications of Geospatial Technologies in the Water Resources Sector in India
Graph 6.5 Various Geospatial Technologies Used for Different Applications in Water Resources Sector in India
Graph 6.6 Reasons for Adoption of Geospatial Technologies in the Water Resources Sector in India
Graph 6.7 Benefits Derived by Using Geospatial Technologies in Water Resources Sector in India
Graph 6.8 Challenges Faced in Implementation of Geospatial Technologies in the Water Resources Sector in India
Graph 6.9 Types of Spatial Data Used by the Water Resources Sector in India
Graph 6.10 Source of Spatial Data for Water Resources Sector in India
Graph 6.11 Data Related Challenges Faced by the Stakeholders of Water Resources Sector in India
Graph 6.12 Satisfaction Level After Implementation of Geospatial Technologies in Water Resources Sector in India
Graph 6.13 Integration of Geospatial Technologies in Workflow in Water Resources Sector in India
Graph 6.14 Division Implementing Geospatial Activities in Water Resources Sector in India
Graph 6.15 Budget Allocation for Geospatial Activities in Water Resources Sector in India
Graph 7.1 Change in Forest Cover of India (1985-2015)
Graph 7.2 India's Forest Cover
Graph 7.3 Contribution of Forest in India's Economy
Graph 7.4 Geospatial Technologies Used in Forest, Environment & Climate Change in India
Graph 7.5 Applications of Geospatial Technologies in the Forest & Environment Sector in India
Graph 7.6 Reasons for Adoption of Geospatial Technologies in the Forest & Environment Sector in India
Graph 7.7 Benefits Derived of Using Geospatial Technologies by the Forest & Environment Sector in India
Graph 7.8 Challenges Faced in Implementing Geospatial Technologies in the Forest & Environment Sector in India
Graph 7.9 Types of Spatial Data Used by the Forest & Environment Sector in India
Graph 7.10 Source of Spatial Data for the Forest & Environment Sector in India
Graph 7.11 Data Related Challenges Faced by Stakeholders of Forest & Environmental Sector in India
Graph 7.12 Satisfaction Level After Implementation of Geospatial Technologies in the Forest & Environment Sector in India
Graph 7.13 Integration of Geospatial Technologies in Workflow in Forest & Environment Sector in India
Graph 7.14 Division Implementing Geospatial Technologies for the Forest & Environment Sector in India
Graph 7.15 Budget Allotted for Geospatial Activities in the Forest & Environment Sector in India
Graph 8.1 Disaster Occurrences and Financial Damage over the Years in India
Graph 8.2 Geospatial Technologies Adoption for Disaster Management in India
Graph 8.3 Applications of Geospatial Technologies in Disaster Management Sector in India
Graph 8.4 Reasons for Adoption of Geospatial Technologies for Disaster Management in India
Graph 8.5 Benefits Derived of Using Geospatial Technologies in Disaster Management Sector in India
Graph 8.6 Challenges Faced in Implementing Geospatial Technologies in Disaster Management in India
Graph 8.7 Types of Spatial Data Used for Disaster Management Sector in India
Graph 8.8 Sources of Spatial Data for Disaster Management Sector in India
Graph 8.9 Data Related Challenges in Implementing Geospatial Technologies for Disaster Management Sector in India
Graph 8.10 Satisfaction Level After Implementation of Geospatial Technologies for Disaster Management in India
Graph 8.11 Integration of Geospatial Technologies in Workflow for Disaster Management Sector in India
Graph 8.12 Department Implementing Geospatial Related Work for Disaster Management Sector in India